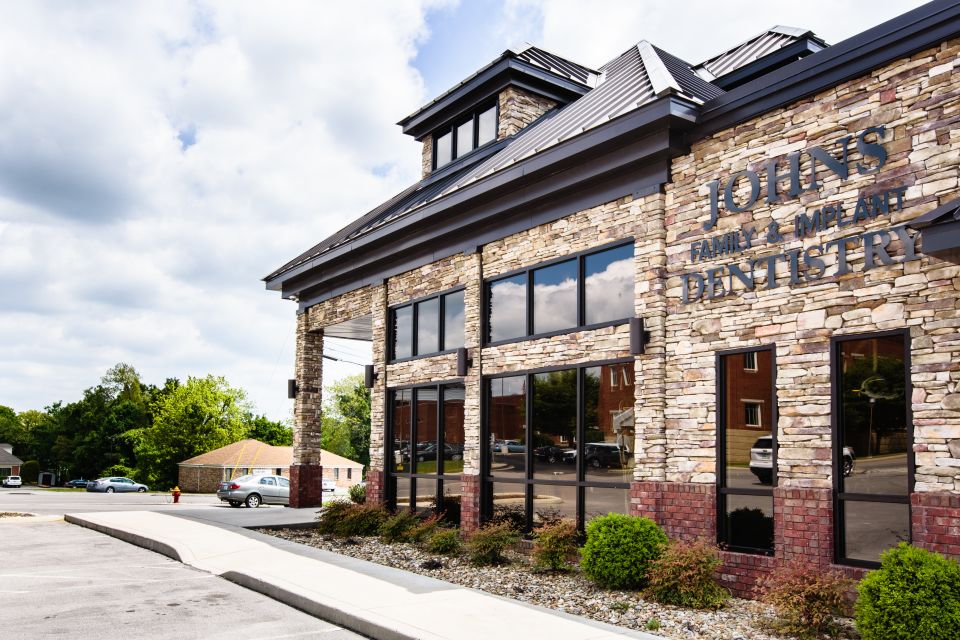 Ready to get started?
Schedule In-Person Appointment

Prefer to do it yourself? Use our convenient scheduler to book an appointment that fits your needs.

Call Now

Call 931-528-6547 to book your appointment and ask any questions you may have.

Meet the Doctors
Stephen C. Johns, DDS
"Implant dentistry is my passion. It has given me the ability to greatly improve the quality of our patients' lives by allowing them to function as they did with their own teeth."
Mary H. Johns, DDS
"Helping people feel good about receiving the dental treatment they need is very important to me. What a child experiences during the first visit to the dentist will last forever, therefore we want to create a pleasant experience for each child."
Jenny L. Ferdinand, DDS
"My mission is to positively affect my community by providing exceptional dental care, fostering long-term relationships with my patients, and raising awareness of the importance of oral health. I want to educate and empower my patients to take ownership of their dental health and hygiene."
Featured Services
Sedation Dentistry
Our team at Johns Family & Implant Dentistry is here to help you overcome anxiety about your treatment with a variety of options for sedation. You may choose minimal sedation with "laughing gas," moderate sedation with oral or intravenous medication, or full sedation with general anesthesia.
More information
Traditional Crowns
If you suffer a cracked or broken tooth, your dentist is likely to recommend a crown, a custom-fitted cap, to cover it and restore the tooth's shape, strength and appearance. Traditional crowns, when cemented into place, fully encase the entire visible portion of a tooth that lies at and above the gum line.
More information
Invisalign
Custom-made to straighten your teeth, Invisalign® clear aligners are nearly invisible and made of a proprietary, multi-layer SmartTrack material, which gently shifts your teeth into place over time.
More information
About Us
ABOUT US
At Johns Family & Implant Dentistry, our doctors and dental team are committed to caring for our patients. Our goal is to provide state of the art treatment that is comfortable and personalized to fit your needs. Whether you are in need of general, preventative, cosmetic, or implant dentistry, we have the genuine care and skill needed to exceed your expectations. We look forward to meeting you!
OUR SERVICES
Our goal is to stay on top of the latest advancements in diagnostic tools and treatments. We are dedicated to giving you a happy, healthy smile you can be proud of.
WHY CHOOSE US?
We know that choosing a dentist can be a difficult decision, and there are multiple factors to consider. The doctors and team members at Johns Family & Implant Dentistry make it their top priority to provide you with exceptional personalized dental care. Johns Family & Implant Dentistry offers flexible appointment scheduling, flexible treatment options, and flexible payment options, all at a convenient location in the heart of Cookeville.
EXPERT TRAINING
With 60 years of combined experience, Dr. Steve Johns and Dr. Mary Linda Johns are committed to providing general, implant, and cosmetic dentistry for you and your family.
PERSONALIZED SERVICE
We recognize that each patient is unique and every situation is different; therefore, we strive to provide exceptional dental care, up-to-date industry knowledge, and a friendly atmosphere for each and every one of our patients.
COMFORTABLE TREATMENTS
Whether you are in need of general, preventative, cosmetic, or implant dentistry, our team has the skill set needed to exceed your expectations.
MODERN TECHNIQUES
We are committed to staying on the leading edge of technology so we can help our patients achieve optimal dental health. Our goal is to provide the highest quality of dentistry in a caring, comfortable, and family-oriented environment.
CONVENIENT LOCATION
We are located conveniently off of TN-136 N. Take exit 287 from I-40 and head North on South Jefferson Avenue. Our address is 121 South Washington Avenue, Cookeville, TN 38501.
SCHEDULE YOUR APPOINTMENT TODAY!
Don't wait another moment to see our dental team at Johns Family & Implant Dentistry! Call us at 931-528-6547 to schedule your visit and start enjoying your ideal smile!
Get Directions to the Office